FICS Attended the ACUMA Annual Conference - Opening the Door to Opportunity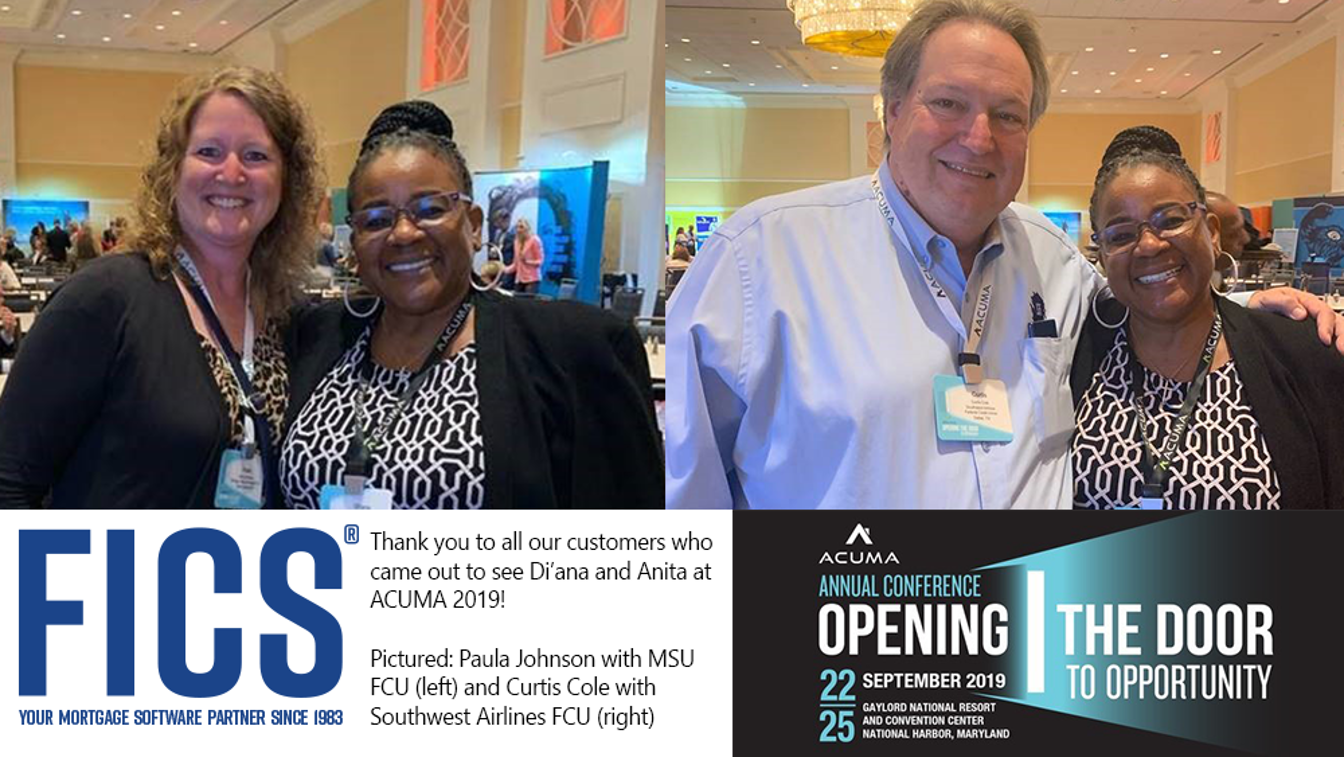 FICS' Di'ana Jordan, Western Regional Sales Manager, and Anita Bush, VP – Mortgage Servicer® Product Development, recently attended the ACUMA annual conference, where they connected with current and prospective customers. Improving customer satisfaction was an important theme throughout this year's ACUMA conference. Technology and personal service are both essential ingredients for delivering a positive borrower experience.
In his keynote address, NCUA Board Chairman Rodney Hood emphasized that, to be successful, credit union staff must understand and address the needs of younger members. "You must reach out to Millennials in new ways and with new technologies," said Hood.
Given Millennials' and Gen Z's preference for digital technology, it may be tempting to communicate with these younger borrowers entirely via digital channels. However, that may be a mistake, at least for first-time homebuyers. According to data from the STRATMOR Group, first time homebuyers were the most satisfied when they received mortgage loan status updates via a personal phone call from the originator or processor, versus by email or text.1
In his session, Jim Cameron, Senior Partner at STRATMOR Group, identified three top problems in the mortgage origination process (based on borrower satisfaction surveys): 1. Mortgage application process/document requests. 2. Communications; and 3. Underwriting. Cameron suggested that lenders can increase borrower satisfaction by giving borrowers a checklist on the front end that can help prevent all three problems.
From a borrower satisfaction standpoint, one of the worst mistakes a lender can make is asking borrowers for the same documents multiple times. Borrowers who were only asked once for supporting documentation were much happier (Net Promoter Score = 88) than those who were asked more than once (NPS = 38). Borrowers often consider requests for updated paystubs and bank statements to be multiple requests for the same document. Automating the document collection process (by getting the borrower's permission to automatically access and refresh data as needed) can solve this problem.2
John Cabell, Director of Wealth and Lending Intelligence at J.D. Power, talked about three keys to "Dazzling the Mortgage Customer." To succeed, credit unions must deal with urgency in the marketplace, get noticed during the customer's shopping phase and win the battle of customer experience. According to Cabell, borrower expectations have never been higher: "Customers are thinking not only about digital (mortgages), but personal service and transparency. To compete, you must offer all three."

Used in conjunction with our loan origination software (Loan Producer®) and mortgage servicing software (Mortgage Servicer® and Commercial Servicer®), FICS' borrower-facing web applications (LPOnline®, eStatus Connect®, and LoanStat®) give borrowers convenient, 24/7 access to their mortgage loan information, meeting their expectations for an efficient, transparent mortgage process. By automating loan origination and mortgage servicing operations, FICS' mortgage software saves time and money, giving mortgage professionals more time to provide the personal service borrowers expect. FICS' commitment to personalized service is evident in the exceptional support we provide our customers. When you call FICS®, you'll speak with our receptionist who will direct you to the appropriate support person. You won't lose valuable production time waiting for someone to return your call or answer your email. Contact us today for a demo.

Sources:
1 https://www.stratmorgroup.com/insights_article/face-to-face-with-first-time-homebuyers/
2 https://www.stratmorgroup.com/mortgagesat_tips/july-2018/