FICS® Customers Have a Choice in Hosting Solutions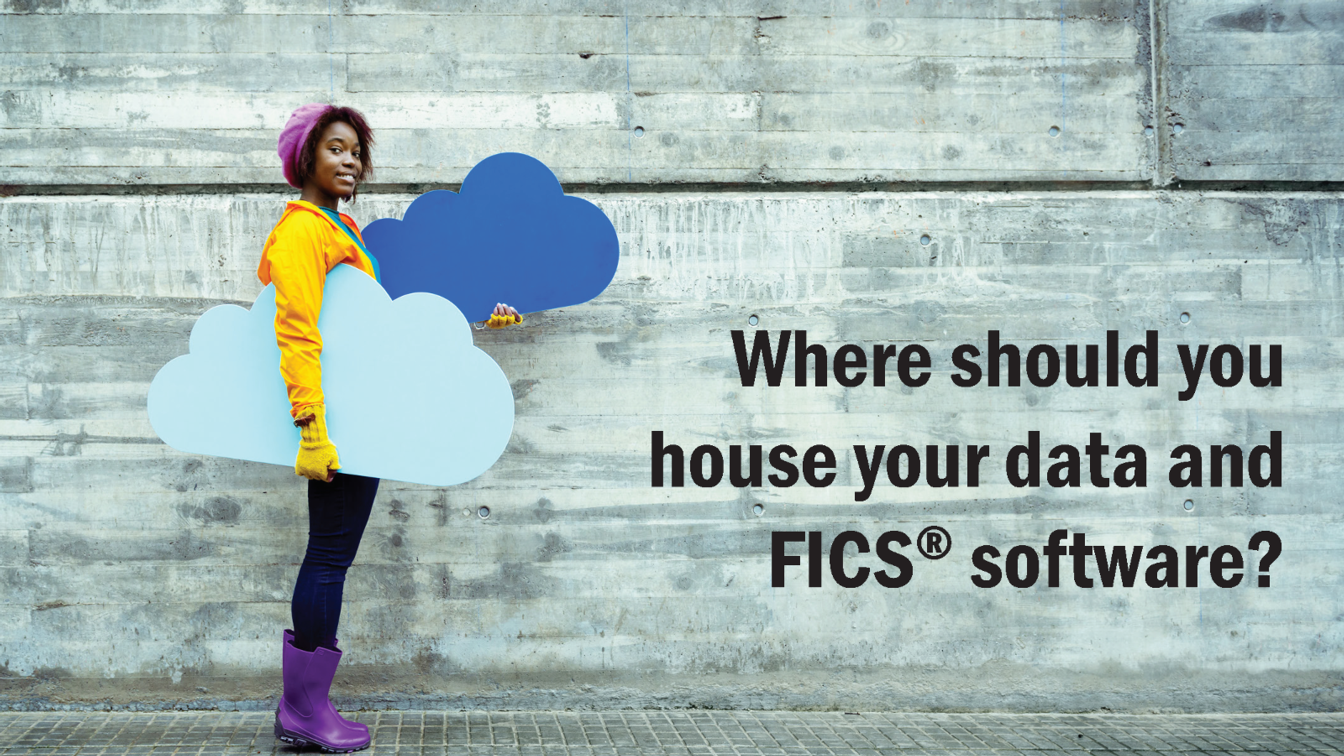 Is it time to re-visit where you house your software and data? Are you finding it difficult to maintain qualified technical support? Or, are you at a point where you need to purchase new hardware to keep up with evolving technology and you want to explore other options? FICS® customers can choose to host their data and software on an isolated on-premises server or a cloud solution. Third party hosting providers have been happily used by FICS customers for 17 years. Is a cloud solution right for your company?
Benefits of a Cloud Solution
Remote accessibility. You can access your software from any desktop computer or laptop, anywhere you have internet access. You don't have to be tied to your desk, so you can work efficiently even when you're on the go.
Security made easier. A cloud hosting provider can provision security services to meet or surpass your company's overall security requirements for your systems and data. Their data centers must meet minimum compliance standards and can give your internal staff the information they need to complete security audits.
Labor saving. Eliminate or reduce in-house IT staff. When you keep your FICS software on your in-house server, you'll need qualified IT staff to install, configure, maintain and backup the system. Gartner estimates that at least 80% of a company's overall IT resources are spent on maintenance of hardware and software. Many cloud-based hosting providers offer system maintenance and security management activities as part of their service. You won't have to purchase new hardware or update outdated hardware, and your system maintenance, including FICS enhancement and regulatory updates, can be done automatically so that you can focus on other tasks.
Selecting a Hosting Solution Provider
Recently FICS conducted research and found that some of its customers have used hosting provider services since 2000. So, what are some of the key factors used to determine a hosting solution? It varied based on internal requirements and proximity. FICS found that customers already using a hosting provider for their core financial system, utilized their provider's services for their FICS systems as well. Engaging a single hosting provider's services for a customer's core system and their FICS systems, allows the bank or credit union to streamline and maintain all of their technological requirements with one company.
FICS found that customers also based their hosting solution provider decision on criteria centered around their business requirements. Is your company a bank, credit union or mortgage company? Regardless of what type of financial institution you are, the decision to have full control of maintaining the software and data or outsourcing it to an external hosting company is unique to each customer and based on many factors. A few hosting providers FICS customers have used:
Hosting Solutions for FICS Customers
FICS' software solutions have been architected to take advantage of the Microsoft® Windows® platforms, using Microsoft®.NET Framework, providing both performance and flexibility. We recognize each company has a wide range of specific requirements. FICS software is ideal for the customer who desires either a cloud hosted solution or an in-house server.
The FICS team has extensive technological experience and the knowledge to provide innovative, yet practical approaches. To find out more about FICS' software solutions or requirements for having your FICS system hosted, contact our Marketing Department: 972.458.8583 or info@FICS.com.