FICS® and Corelation: Enhancing Relationships at the 2018 Corelation Client Conference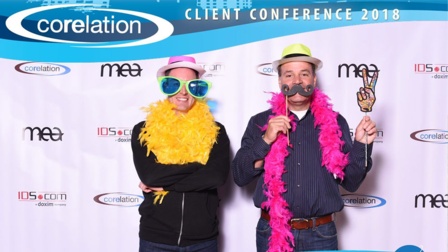 FICS® representatives attended the 7th Annual Corelation Client Conference at The Westin-San Diego, in San Diego, CA, on May 8th-9th, 2018. Corelation Inc. provides core processing systems, including KeyStone, for credit unions. FICS®offers comprehensive mortgage software solutions for loan origination, residential servicing and commercial servicing. Working together, Corelation has programmed FICS' Real Time Access (RTA) into their core system to make accessing mortgage information and posting payments a seamless process. The combined systems also produce a real-time branded look and feel across the vendor's product portfolio.
At the opening session, Teresa Benevidez, Corelation's co-founder, president and CEO, spoke about the company's impressive growth. Corelation has grown 27 percent from 2017 and, with conference attendance up 40 percent from 2017, has now outgrown the Westin. According to CU Insight, Corelation "has emerged as the leader among new credit union data processors that have appeared in recent years."
In her keynote speech, Dr. Jackie Freiburg, author, speaker and success coach, stressed the importance of credit unions and vendors creating an experience for their members, customers and employees. To succeed in today's marketplace, credit unions must stand out from the "sea of sameness." According to Freiburg, setting your organization apart starts with employee engagement that cultivates employees who will be life-long advocates of your organization. "When we engage our people, we create people who want to work with us for a long time and who strive to improve the member experience," she said, "not because they have to, not because they're told to, not because they're trained to, but because they want to enrich your members." Like FICS®, Corelation values relationships and delivers unparalleled customer service that starts with dedicated employees.
During the conference, Barry Malone, Senior VP of Sales, and Cole Stevens, Marketing Coordinator, spoke with most of FICS' customers who currently use Corelation. Malone reported that our customers are happy with Corelation and like the FICS®/Corelation interface. When they weren't busy promoting FICS' leading-edge Mortgage Servicer® software, Malone and Stevens enjoyed the conference entertainment, including a performance by the KeyTones (note the similarity to their KeyStone product), a house band composed of Corelation employees.
The FICS®real time interface with the Corelation Keystone core system allows credit unions to use leading-edge mortgage servicing software to service mortgage loans efficiently. Using FICS' Mortgage Servicer®, credit unions can enter the secondary market, selling loans to Fannie Mae®, Freddie Mac®or FHLB. Instead of selling off long-term loans to the competition, FICS®customers can retain those long-term loans and earn a nice service fee income. Furthermore, mortgage loans are viewed as long-term sticky products, meaning that borrowers will have frequent interaction with their mortgage servicing company for an extended period because of the nature of a mortgage loan. This extended relationship presents a key opportunity to cross-sell other products to credit union members. It's a win/win situation for both credit unions and their members.
Sources:
https://www.cuinsight.com/corelation-conference-attendance-40.html
https://www.cuinsight.com/corelation-conference-stand-sea-sameness.html