Freddie Mac Connect: Mortgage Servicers are Gearing up for the Investor Reporting Change Initiative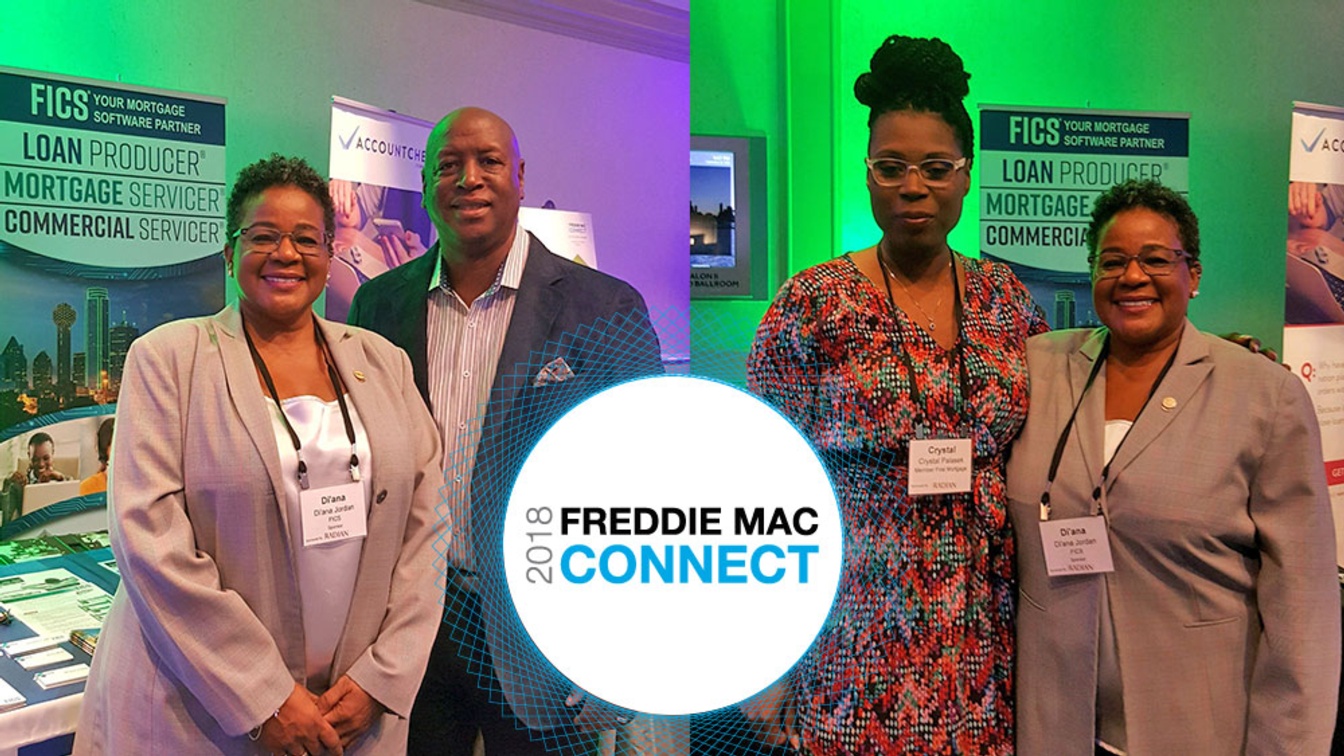 The 2018 Freddie Mac Connect conference was the GSE's largest conference ever. With the new Freddie Mac® investor reporting requirements coming in May 2019 and the second wave of testing starting on October 9, 2018, compliance with the Investor Reporting Change Initiative (IRCI) was the hot topic for servicers.
Mortgage servicers want to be sure they're ready for the IRCI, so they need to confirm that their mortgage servicing software vendors have updated their software to incorporate the new investor reporting requirements. FICS® regularly updates our mortgage software to accommodate changes in agency investor reporting and other regulatory changes. FICS® has been actively working with Freddie Mac representatives on their IRCI, participating in monthly servicer/vendor engagement meetings. At Freddie Mac Connect, FICS' Di'ana Jordan and Anita Bush spoke with many current and prospective FICS® customers, answering questions about Freddie Mac's IRCI and explaining how FICS® is prepared for the new reporting requirements. One FICS® customer, the VP of mortgage services for a credit union, raved about the support he received from FICS' team at Freddie Mac Connect:
"Di'ana, thank you and Anita for all of your help at the Freddie Mac Connect conference!! I told my managers that speaking to you was worth the trip by itself. When I got back and worked with Matthew Perez (FICS' Mortgage Servicer® System Support Manager) on the system test environment set up and training, everything made so much more sense. The whole IRCI is making so much more sense to me with your help (and Matt's help as well). You all are a credit to our industry. I think my head would have exploded if it weren't for all of you. I no longer feel like I am on an island by myself."
FICS' mortgage servicing software, Mortgage Servicer®, supports GSE investor reporting (Freddie Mac®, Fannie Mae®, and Ginnie Mae®). Mortgage Accountant® automates investor remittances including advance/recovery of P&I and T&I. With FICS' loan origination software, Loan Producer®, you can underwrite and sell loans to Freddie Mac®, Fannie Mae® and FHLB. For more information about FICS' leading-edge loan origination and mortgage servicing software, please contact us at info@FICS.com.